Visit the South Coast's "Premier" holiday destination

'Where the forest meets the sea'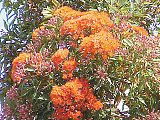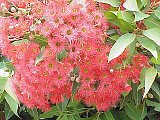 'Corymbia ficifolia' - a red flowering gum unique to the Shire has different shades of colour.
---
Tourist and Visitor Information
The town has an information centre to handle a wide range of inquiries from visitors to the area. There is also a privately run promotion and (limited) booking service. These are the Denmark (WA) Tourist Association ; Denmark Visitor Centre and Valley of the Giants
Some of the services they may provide include
accommodation information
attractions information
booking service for accommodation and travel
souvenirs for sale
maps and brochures
local tour details and bookings
restaurant and food outlet details
Tree Top Walk opening times, events programs and ticket sales
vast amount of local information
---
The Denmarkwa web site tries to show you some of the features that make this district a top destination for visitors and holiday makers. Any suggestions for improvements or additional information please contact info@denmarkwa.com.au Browse through for information but remember there is no substitute for actually coming and seeing for yourself.
---
Contact - info@denmarkwa.com.au
Copyright 1999 - 2009 Denmarkwa Web Sites