Visit the South Coast's "Premier" holiday destination
'Where the forest meets the sea'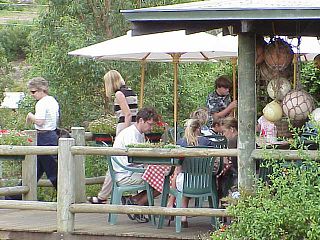 One of the many pleasant places to dine.
---
Dining Out
Visitors and locals alike have a wide choice of establishments to select from when a hearty appetite develops. They range from traditional country fare to Mexican, Chinese and fresh gourmet blue marron.
Over a dozen restaurants and eating houses are spread around the town and surrounding countryside. Opening hours and days vary with the season so it pays to check first particularly for those out of town.
Some venues cater for morning and afternoon teas as well as light lunches. Some are attached to wineries where you can sample the wine before you chose a bottle or two to complement your meal.
Up-to-date information is available on a notice board in the car park, at the rear of the Edinburgh Guest House, South Coast Hwy. The proprietors update this on a daily basis.
Hungry? Sit down!
The Healthy Buddha Bar - offers dining inside in a modern setting or outside. Here you can enjoy the relaxed setting of the verandah while partaking of our fresh foods. Not fast food but good food that takes time to prepare for you. 08 9848 3333 Our Web Pages -0O0- eMail us

Aqua Blue Marron Farm and Restaurant (seasonal) 08 9840 8008
Cuzco Cafe 08 9840 9262
Denmark Pizza
Denmark Tavern 08 9848 1084
Denmark Unit Hotel 08 9848 2206
Emily's Country Kitchen 08 9845 1133
Fig Tree Cafe 08 9848 2051
GreenPool 08 9848 1922
Heng Wah Chinese Restaurant 08 9848 3033
Mary Rose Restaurant 08 9848 1260
Nornalup Teahouse Restaurant 08 9840 1422
The Observatory Restaurant 08 9848 2600
Wendy's Lions Den 08 9848 3799


Hungry? Sit down or take-away!


Bibbulmun Foods 08 9848 1289
Bow Bridge Roadhouse 08 9840 8062
Crafti Gelati 08 9848 3678
McSweeneys Gourmet 08 9848 2362
Pippa's 08 9848 1636
Cafe Lime 08 9848 2899


For more detailed information see "Dining Out in Denmark"
from Denmark Printers, Destination Denmark etc.





---

The Denmarkwa web site tries to show you some of the features that make this district a top destination for visitors and holiday makers. Any suggestions for improvements or additional information please contact info@denmarkwa.com.au Browse through for information but remember there is no substitute for actually coming and seeing for yourself.

---

Contact - info@denmarkwa.com.au

Copyright 1999-2009 - Denmarkwa Web Sites