Visit the South Coast's "Premier" holiday destination

'Where the forest meets the sea'
---
Denmark Historical Society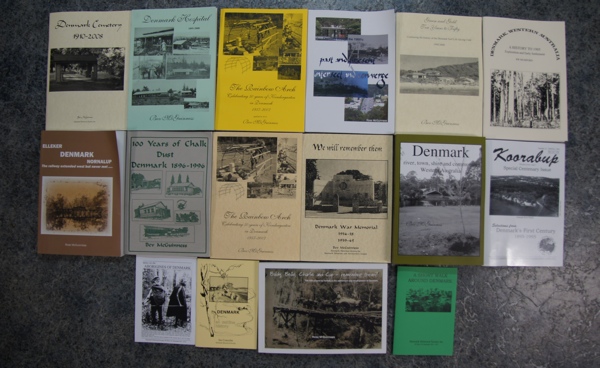 Some of the publications available
---
Historical Society Resources
The Denmark Historical Society has a number of valuable resources available to researchers and the public. Among the archival material:
15,000 objects/artefacts
over 1,700 images in the photographic collection
oral histories
information on Group Settlements
some information on Births, Deaths and Marriages including Obituaries and people profiles
cemetery records
Publications
In production now:
Seventy Years - Denmark School of Agriculture R. & B.J. McGuinness - at printer - Launch Sat 6th October 2012 - 550p (100colour) $90.00
Where there's smoke ... Brigade 50 B. McGuinness - at printer - Launch Sat 29th Sept 2012 - 100p $20.00
What's in a Name B. McGuinness - publication date late 2013
Group Settlement in the Shire of Denmark Dale Fewings - publication date late 2012
All the titles below now in stock:
Baldy, Belle, Charlie and Cap - remember them? R. McGuinness, The role played by horses in the settlement and development of Denmark. 230p $65.00 p&p $10
Koorabup No. 80 Winter 2010 Bumper edition to mark Editor Ian Conochie's 80th Koorabup, OUT of PRINT
Denmark: River, Town, Shire and Community ( The First century of Local Government) B. McGuinness, 618p, inc. 100 colour pages, $90
Denmark Hospital - 1895-2008 B. McGuinness, 1895-2009, 218p, $25.00
The Rainbow Arch - Celebrating 50 years of Kindergarten in Denmark 1957-2007 B. McGuinness, 112p, $20.00
Past & Present Intersect and Converge: Denmark through the 1900's R. McGuinness, A look at Millars and the influence of the railway and tramways on the settlement of the district, 130p, $27.50 p&p $7.00
Elleker-Denmark-Nornalup R. McGuinness, The railway, construction, sidings and life on the South Coast , 376p, $70.00 p&p $10
Denmark War Memorial B. McGuinness, details of people whose names are recorded on the towns memorial, 130p, $20.00 p&p $7
Denmark, a History to 1905, R.W.Mumford, 60p, $10.00
Denmark Cemetery 1910 - 2008 : B. McGuinness, 75p history of burials in the Shire, $10.00
100 years of Chalk Dust : B. McGuinness, history of over 12 schools in the Shire, 207p, $20
Denmark Outline History : I. Conochie, 33p, $5.00
Heritage Trails in the Denmark District - Exploration & Settlement in Tall Timber Country: 28p, Free
Koorabup - Quarterly Journal (some back issues available), $2.50
Koorabup , No. 21 Spring 1995, Special Centenary Issue,Editor, Ian Conochie, Re-print: $10.00
Notes on the ABORIGINES OF DENMARK Ian Conochie, 8p, $0.50

Obtainable from: Denmark Historical Society, Mitchell Street, DENMARK WA 6333

Email: history@denmarkwa.com.au


Back to History Home Page





---
The Denmarkwa web site tries to show you some of the features that make this district a top destination for visitors and holiday makers. Any suggestions for improvements or additional information please contact history@denmarkwa.com.au Browse through for information but remember there is no substitute for actually coming and seeing for yourself.
---
Contact - info@denmarkwa.com.au
Copyright 1999-2008 - Denmarkwa Web Sites