Visit the South Coast's "Premier" holiday destination

'Where the forest meets the sea'
---
Fishing
Annual Fishing Competition - Aust Day Long Weekend

for further information Contact: Colin Wright 08 9848 1006

Fishing: beach, estuary, off-shore and river fishing are all available. The beach fishing can be from the sand or off many of the rocks adjacent to deeper water. Extra care needs to be taken as large swells in the Southern Ocean lead to the occasional wave that is larger than usual. These sweep in and crash onto the rocks catching the careless and unwary. Please take extra care when on the rocks even if it looks calm. One moment of inattention could see you swept off. Once in the water the swell and waves can easily bash you against the rocks.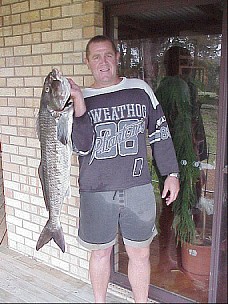 Moose and his mowong; caught at Waterfall Beach; 12 lb line; 21 lb fish

Fish to be caught:
herring, skippy, sand whiting, samson, mulloway, salmon, silver bream, salmon trout, shark, stingray, King George whiting, flathead, bay snapper, cobbler, mullet and tailer


Some Fishing Spots
Boat Harbour
Conspicious Beach
Flat Rock
Hilliers Beach
Light's Beach
McGeary's Rock
Parrys Beach
Peaceful Bay
William Bay - Green's Pool, Elephant Rocks, Waterfall Beach, Madfish Bay
Wilson Inlet


Boat Launching
For the river and inlet: traffic bridge, Rivermouth Park, Poddyshot
For the ocean: check locally with the Denmark Boating and Angling Club for advice on the best launching spot depending on season and prevailing weather conditions.
---
The Denmarkwa web site tries to show you some of the features that make this district a top destination for visitors and holiday makers. Any suggestions for improvements or additional information please contact info@denmarkwa.com.au Browse through for information but remember there is no substitute for actually coming and seeing for yourself.
---
Contact - info@denmarkwa.com.au
Copyright 1999-2009 - Denmarkwa Web Sites